---
Connect Zimbra Community with Outlook 2013
---
Here is how to connect your Zimbra Community with Outlook 2013 using the ActiveSync and Z-Push without Outlook connector available only in Professional edition.
If you have z-push installed on you Zimbra Community server you can now connect your Outlook 2013 and sync your mails, calendar, contacts. If you don't already have Z-Push installed you can follow my tutorial Zimbra ActiveSync with Z-Push v2
You can start your configuration but at the end you will receive this error: Log onto Exchange ActiveSync mail server (EAS): The server cannot be found. 
There is a simple workaround that i found on this blog How to connect Exchange ActiveSync (Z-Push or other EAS Server) with Outlook 2013 and it works with Zimbra Community eddition.
Scroll down at the end of this post for a easier workaround, but it's not officially supported by z-push developers. 
Configuring Outlook
Start Outlook and go to File –> Add Account

Select "Manual setup or additional server types"

Select "Outlook.com or Exchange ActiveSync compatible service"

Enter your account infomation and your EAS server address then click "Next"

You will get the error as "Log onto Exchange ActiveSync mail server (EAS): The server cannot be found."
DO NOT click "Close", left this dialog message here and go to Step 6.

If you are using selfsign certificate then you might get a certificate error prior, simply click "Yes"


Open your task manager by holding "Ctrl + Shift + Esc" or right click on your task bar and select "Task Manager"
At the Windows Task Manager, navigate to "Processes" tab (Windows 7) / "Details" tab (Windows 8)

Look for outlook.exe process and click "End Process", if any confirmation dialog appear, simply click "Ok"

Open your Outlook 2013 again and that's it, you can see status will show "Connected". Allow Outlook to download mail from the server. Once all mail Synced, another status "All folders are up to date" will appear.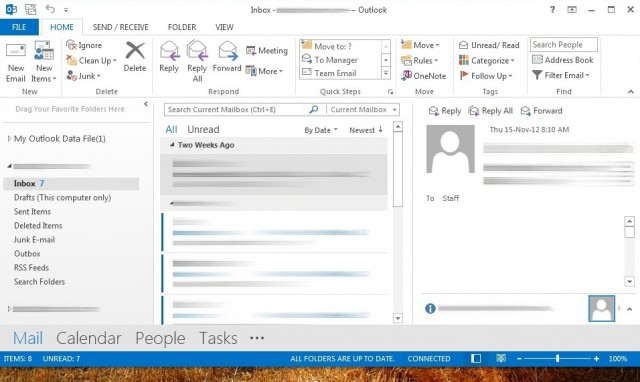 This maybe patched later on, but for now this works and we can gave Outlook lovers their mail client.
[divider]
EDIT 17-12-2013: For those who see the folders but there are NO mail in them
If you have bigger mailbox and in your folders you have larger number of mails than you may have problem with your states.
I had a mailbox with 20.000+ mails in one folder and during debugging I've noticed that it's reading 18,000 mails and then my Outlook is trying to get the number of mails again and it's messing the state and i get:
StateNotFoundException: FileStateMachine->GetState(): Could not locate state '/var/lib/z-push/7/9/db64db8d21094611b0c387e289914497-bs-1386661950' – code: 0

To fix this you need to increase the $limit variable in backend/zimbra/zimbra.php from the default 500,i was able to get all the mails with the value of 2000
cd /var/www/z-push/
vi backend/zimbra/zimbra.php
Find the $limit variable and change it.
$limit = 2000
I can't say if this will impact performance but for now it works great for me.
[divider]
EDIT 08-01-2014: For larger mailboxes sometimes Outlook hangs and stops updating
According to the author the php memory_limit should be minimum 128MB but for larger mailboxes you need to increase it. I had mine set to 256MB and now everything works fine.
vi /etc/php5/apache2/php.ini
change the default memory_limit value to 256M:
memory_limit = 256M
Hope this helps you.
EDIT 11-11-2014: You can edit z-push core files so you don't have to kill the Outlook process.
It is described on this SourceForge link and I've been using it for some time now:
edit lib/core/zpush.php like this:
vi lib/core/zpush.php
static private $supportedASVersions = array(
 //self::ASV_1,
 //self::ASV_2,
 //self::ASV_21,
 self::ASV_25,
 self::ASV_12,
 self::ASV_121,
 self::ASV_14
 );
Zimbra http://www.zimbra.com/
---
---